2000 - 1994
november 2000
On the eve of the October Revolution, Bugsy's Bar celebrates the first 2,000 days of its existence with the participation of its loyal guests and numerous celebrities - 2,000 days that shook and mixed the world!
may 1999
We celebrate World Cocktail Day for the very first time.
november 1998
Václav Vojíř participates in a competition for the first time in his career and achieves second place in the final round of the Havana Club International Cocktail Grand Prix bartending competition in Havana for mixing Zdeněk Šulc's Almond Cigar recipe. This result is even mentioned the next day on the front page of the Cuban Communist daily "Granma". Bohumil Pavlíček, the president of the Shaker Club and the "maintainer" of the bartending trade during the period of totality, makes an appearance at the subsequent celebration held at Bugsy's Bar.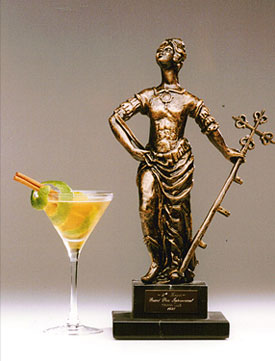 june 1998
Bugsy's Bar celebrates the first 1,500 days of its operations.
december 1997
A plagiarized version of Bugsy's Bar is opened in Brno, but is quickly renamed "Ben Siegel's Bar".
listopad 1997
Václav Vojíř and Zdeněk Šulc, with the vocal assistance of Dara Rolins, record and publish their first single to the music of Daniela Hádla - "Bugsy's Song".
october 1996
Newsweek International ranks Bugsy's as one of the world's best bars.
july 1995
We introduce the Mojito to the Czech public for the first time… The first reactions to its appearance are somewhat mixed, but its popularity grows exponentially!
31.march 1995
Bugsy's Bar opens its doors for the first time. We don't have to wait long for our first guests though; they are already queuing outside the door!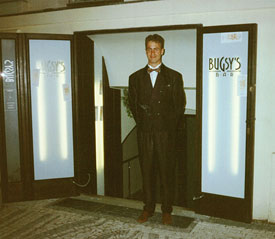 december 1994
Construction starts on the bar that no one believed could succeed…